• beef • christmas ham • Christmas sausages • exciting times • free range • gluten free • natural • organic • outdoor bred pork
Have you ordered your Christmas Goodies yet? At Rendinas Organic Butcher we have so much to offer from Home made Traditional leg ham, Glaze, Cranberry Sauce, Pork Roast and Certified organic Turkey. Also available our house made pork and apple or turkey and cranberry chippolatas. Its so easy, head to our online shop Melbourne Under the Christmas banner and check it out....   Wishing you all a very merry Christmas from the team at Rendinas.
---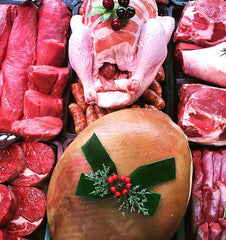 • chicken • christmas ham • Christmas sausages • christmas turkey • free range • fresh fish and seafood • gluten free • natural • nitrate free • nut free • organic • pork • Stuffings
Select from the following: Accredited Free Range Turkeys, Turkey Breast, Home made Leg Ham, (Nitrate Free Ham available), House Made Pork & Apple Chippolatas (Gluten Free),House Made Turkey & Cranberry Chippolatas (Gluten Free), House Made Stuffings sweet or savoury (allergy free available),Fresh Fish and Seafood, Cranberry Sauce, Ham Glaze and Much Much More!
---
• beef • biodynamic • clean food • free range • gluten free • grass fed • healthy food • home made • nutrition • organic • paleo • real food
What do you Need? 1kg Biodynamic/Organic Diced Beef 1 Organic Leek, 2 Carrots, 3-4 Stalks Celery, 2 Onions, Garlic all Chopped 3-4 Dry Bay Leaves 1 Tablespoon Organic Tomato Paste 3 Cups Beef Stock Can of peeled tomatoes  2 Cups Red wine Salt and Pepper Ground Cumin  Butter and Olive Oil What to do: simply brown the meat a little at a time with heated olive oil and butter together. Once you take the meat off the pan, set aside in a dish with paper towel to drain and dust each time with ground cumin. Once all the meat has been...
---
• easter • gluten free • grass fed • greekeaster • home made • lamb • organic
Prep time 20 min. Cook time 4 hours Serves 6 INGREDIENTS: I build Garlic, separated into cloves half peeled half unpeeled 1 leg of Lamb Approx 2.5kg Extra Virgin Olive oil 15 bay leaves 3 lemons cut into quarters 1 tsp ground cinnamon 1kg Cypriot Potatoes cut lengthways into quarters(or Nicola) 140g greek Olives(or any pitted large green Olives) 125ml red wine  METHOD: Heat oven to 220C/200C fan/gas 7. Arrange the unpeeled garlic cloves, 3 bay leaves and the lemon quarters in a large roasting dish and cover with 200ml cold water. Sit the lamb on top, drizzle with the olive...
---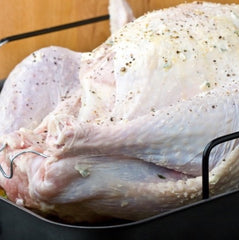 • christmas turkey • free range • gluten free • home made • organic • Turkey
What you Need From Rendina's: 4-5kg Organic Turkey 400g Rendina Stuffing- wild Mushroom and Cranberry ( Gluten free) 200g Grass Fed Butter Himalayan Salt Pepper Wilkin & Sons Cranberry Sauce The Stock Merchant Chicken Stock Cooking Method: Pre heat the oven to 180. Place the Chicken Stock and the stuffed turkey in a roasting pan, rub all over with butter putting half of it under the skin of the breast. Season with salt and freshly ground pepper. Place a piece of foil over the breast and roast for about 1 1/2 hours, basting frequently.  Remove foil and bake for a further 15-30 minutes. Cover...